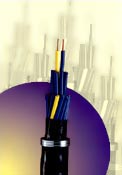 Newpower Group started in 1982 on the foundations laid by the first company in the Group since 1979, to bring advanced industrial machinery to China from leading international manufacturers. Over the last two decades, it has built up a reputation for excellence among its clients and competitors, and is widely recognized as one of the major players in the field.
A continuous effort has been made to expand the Group's trading activities, both through market-lead and organic growth. Several specialist divisions, including Cable & Wire, Converting, Machine Tools, Plastic & Rubber were established to serve China's industrial manufacturers. Products traded ranged from customized machinery to full production lines. Over the years, the Group has installed up to a thousand production lines for various industries. The company also acts as a vital link between manufacturers and end-users in this highly technical field.

Regular seminars, trade shows and training programs are organized to ensure active communications and a high level of interactivity between industrial players.
Additionally, the Group has been involved in the pharmaceutical industry since day one of its operations and has now over twenty years experience managing trading operations for various European pharmaceutical products in the Greater China region.